When B2B buyers look for insights to steer purchasing decisions, the answer is often just an internet search away. This instant access to knowledge — thanks to brand investments in digital and content marketing — has changed the relationship between buyers and sales reps, who are no longer gatekeepers to niche product information. And as buying behaviors evolve, so do the roles of sales professionals, who must switch to a consultative mindset.
According to TrustRadius, virtually all B2B buyers favor self-led buying journeys with little to no interactions with sales reps. Yet these B2B buyers still want consultative guidance, particularly as they move toward the conclusion of their buyer journey. For sales, this means trading conventional sales tactics – like cold calling and one-on-one product selling – for more holistic, custom, and needs-based sales solutions. 
How a hybrid approach to events can maximize your leads
While live events have come back, virtual events offer the potential to maximize your ability to land and then nurture leads from a wider audience.
Read now
Will metaverse marketing survive the current tech rout?
Brands remain active despite a lot of doomsaying, though experts agree they must prioritize compliance as platforms like Roblox tighten their policies.
Read now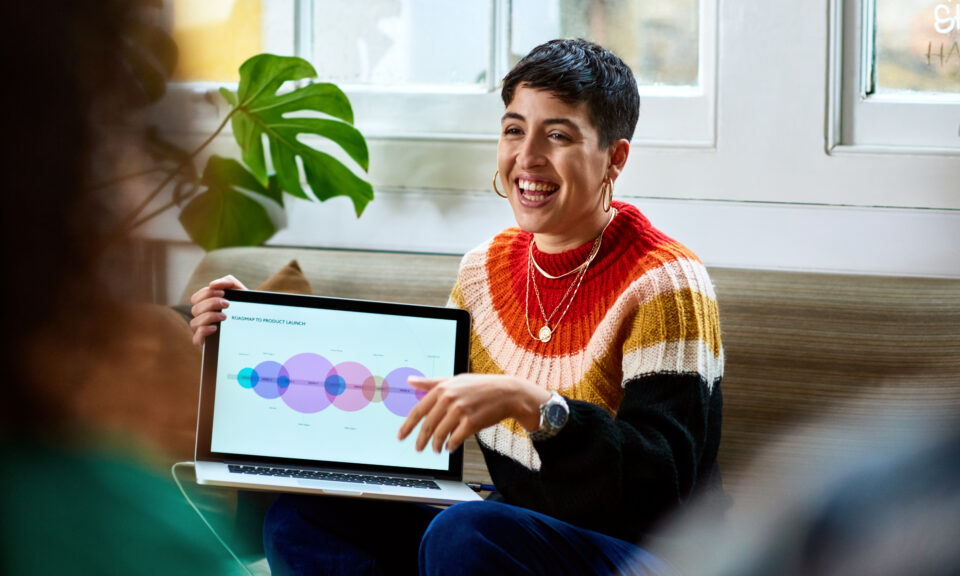 5 essential demand generation statistics for 2023
From SEO to strategic days to take action, this list will give you the edge to grow your brand.
Read now
It's time for sales to think like consultants: experts who can translate your prospects' existing product knowledge into the vision of a successful partnership.

The stats are clear: B2B buyers want to start their journey alone

In 2022, just one in four surveyed buyers across all generations consulted a sales rep, favoring unbiased sources above vendor-provided information. Once buyers identify a need, 77% begin their search with third-party sources like online forums, peer reviews, and industry authorities. The TrustRadius survey found they want easily accessible content from vendors like pricing, user feedback, product demos and free trials – without talking to a sales person.

What is solution selling, and how does it fit with self-led buying trends?
Solution selling, sometimes called consultative sales, is about presenting the customer with a solution to their problem, rather than getting them to see why your product is great. In focusing on the customer need, consultative sellers can spot opportunities to engage the customer further.
"Solution selling looks at not just what we can sell across our brand, but how our organization can help the customer," explains Sandra Kupiec, VP of Global Media at Informa Tech. "Sometimes sales reps will get on a call with a client and think 'I gotta sell this thing because the deadline is looming'. And so anything the client is saying is missed because they're only focused on selling that. If we listen more and talk less, we see where the client is heading. Rather than saying goodbye, we're sending that information along to the appropriate person within our organization." 
Serving customers in this way creates what Kupiec calls 'viral' sales opportunities. "Before you know it, you're across their whole organization, able to provide solutions at multiple levels," she says. 
Solution selling appears to be a modern pathway to success. A LinkedIn survey of buyers and sales professionals in the U.S. and Canada found top sales performers (those exceeding quota by 50% or more) share a common trait: They put the buyer's needs first. That doesn't mean simply giving buyers what they want, but educating them and challenging their assumptions as a trusted advisor. 
This shift in approach has more influence than you might expect: 54% of buyers said that sellers "often" or "very often" change their opinion, and the LinkedIn survey found 89% are more likely to consider a brand if a seller changes their way of thinking. Backing up claims with proof — industry stats, case studies and reputable third-party sources — is one way sales advisors can earn trust, boost credibility and influence prospects.
"Sales reps should understand where a buyer is in that process, what they have learned and have assets ready to course-correct false assumptions or skewed views," says John Ecke, president of Engage, Informa's global marketing services agency. "By asking qualifying questions, that will tell you immediately what their pain point is. And that will allow you to sharpen the conversation with them to what they care about."
When and how should sales consultants contact their prospects?
When sales reps rush in too soon, they lose trust and can be seen as more of an annoyance than an advisor.
"Sometimes, we've contacted people too early — they are just seeking information and can get quite angry if a salesperson has contacted them," one marketing executive told Informa Tech's CMO Survey. 
However, after downloading solution-specific content, 85% of surveyed buyers are open to receiving follow-up communications from a sales consultant, according to Informa Engage's Audience survey. But what's the right consultative approach for sales to engage them? In short, customers want quick (but not to the point of harassment) follow-ups, and they want to ask specific questions to highly knowledgeable advisors.
Most respondents (41%) prefer follow-ups within 2-3 days of downloading content, while 21% prefer a follow-up within a week. Six in 10 buyers (65%) want sales consultants to be highly knowledgeable and nearly half (46%) want them to provide supporting content to help make a decision.
"When somebody comes through a lead like an ebook, we will initially try to set up a 30 minute call. When we get on the phone, we don't start the conversation by talking about the content they downloaded. We ask why they're interested in that product, we ask about their KPIs, strategy and what they're trying to solve. Once we get into that discussion, it opens up to more of a solution, versus a product, sell," says Kupiec. 

Her sales team carries out research before that first call, looking at how the customer speaks about their own products and services and how they're answering questions to their own customers.
"That opens up the person we're trying to sell to and we start venturing down areas we might not have gotten to had we not understood what they're really experiencing in their own organization and how we can help make them look like a hero," Kupiec explains.
Where are buyers researching their potential solutions?
While timing is crucial, it's also about knowing which type of content to put in front of a customer at each stage of the cycle. For example, the aforementioned Informa Engage survey found that demonstrations are buyers' second favorite content type when making a purchase decision (41%), but least favored during the initial research period. Meanwhile, in-person events are popular during both touchpoints. 
Buyer research insights from Informa Engage
When researching solutions, respondents rely most heavily on the following:

Industry news (51%)

In-person industry events (51%)

Analyst intelligence/market outlooks (46%)

Data sheets/specifications/technical articles (41%)

Case studies and customer testimonials (39%)

Webinars (39%)

Product demos (37%)

Top reliable sources for researching solutions:

Analysts/industry experts (55%)

Digital industry publications (51%)

Industry events or meetings (48%)

Peers/word-of-mouth (40%)

Manufacturers (39%)

Print industry publications (34%)

Communities/forums (31%)

When looking to make purchasing decisions, go-to content sources shift slightly:

In-person industry events (42%)

Product demos (41%)

Product reviews and testing (38%)

Data sheets/specifications/technical articles (35%)

Case studies and customer testimonials (29%)

Analyst intelligence/market outlooks (28%)

Industry news (28%)

Top reliable sources for making purchasing decisions:

Analysts/industry experts (44%)

Manufacturers (38%)

Peers/word-of-mouth (36%)

Industry events and meetings (36%)

Online search (33%)

Digital industry publications (33%)

Industry associations (30%)
Source:

Informa Engage Audience survey: Information needs & preferences.
 How to use intent data to perfect your timing
How do you know when prospects are close to a purchase decision? As a general rule, customers consume more content the closer they get to a decision. But as we've seen, the format they've selected is also a signifier. Adding these insights to your lead generation data can give you some clear indicators. 
Webinar registrations, in particular, send intent-rich signals. According to NetLine, users registering for on-demand webinars are 50% more likely to make an investment within the next six months compared to other content formats. That number goes up for live webinar registrations: Those registrants are 107% more likely to make a purchase decision within three months. Other content formats associated with swift buying decisions include software trials, survey reports, white papers, best practices and how-to guides.
Data can reveal even more, including who, and how many people, in a company are viewing this content, the last time they viewed it, and how closely they match your ideal account criteria. Getting this holistic view of the business means that consultative sellers can pitch a package of solutions that address numerous business needs, making themselves an integral solutions provider for the client and dramatically increasing sales. 
And while ChatGPT is stealing the headlines, AI tools that analyze buyer conversations and digital actions for intent data are also helping consultative sales reps prioritize where to focus their efforts. 
"I love predictive software because it can tell us where we can get more efficient, what we can do better, and how we can better listen," says Kupiec.
At a time when B2B buyers are happy (and able) to make purchasing decisions largely alone, sales need to forget how they want a customer to behave and focus instead on what the customer needs from them. By using this approach, sales can get closer to the customer, earn their trust and better influence their decisions. 
Informa Tech delivers high-performing digital marketing services across your customer journey. Learn how we can help you build your brand, earn trust, and drive demand.