Welcome to the era of the self-serve B2B tech buyer. According to recent data, B2C trends like convenience and access to easy-to-find product information like pricing and peer-to-peer reviews have infiltrated business buyers' behavior. B2B tech buyers want all basic information at their fingertips and to validate with peers–without the gatekeepers.
65% of the workforce are Millennials and Gen-Zers who've grown up with social media, search engines, and review sites. They're digital-first buyers who conduct the majority of their journey anonymously and defer or avoid talking to sales. This behavior is mirrored by older generations and was accelerated by the pandemic. To succeed in this new reality, technology providers must influence buyers where they do research; provide them the content and resources they seek, including features and pricing information; back up their claims with trusted customer proof; and let them test-drive the product.
How a hybrid approach to events can maximize your leads
While live events have come back, virtual events offer the potential to maximize your ability to land and then nurture leads from a wider audience.
Read now
Will metaverse marketing survive the current tech rout?
Brands remain active despite a lot of doomsaying, though experts agree they must prioritize compliance as platforms like Roblox tighten their policies.
Read now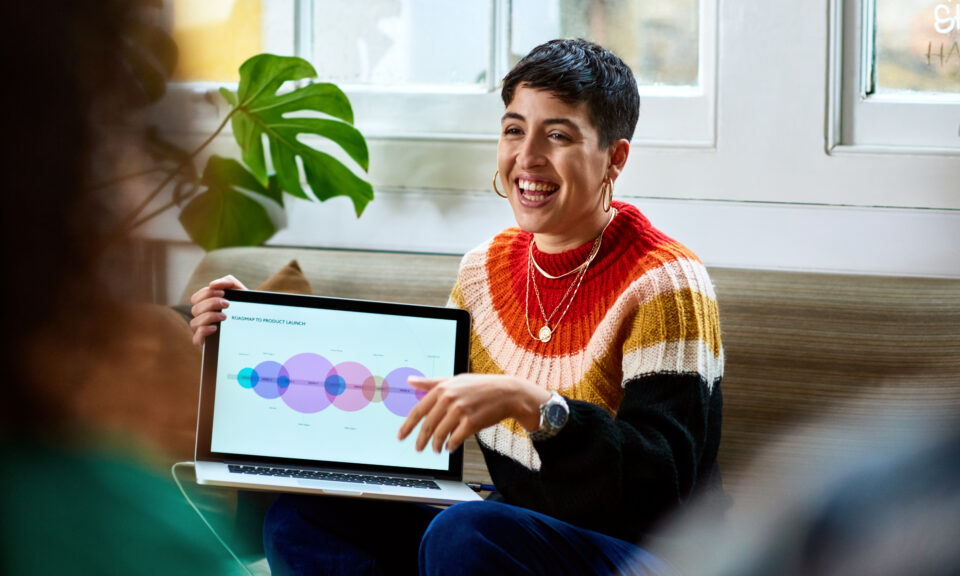 5 essential demand generation statistics for 2023
From SEO to strategic days to take action, this list will give you the edge to grow your brand.
Read now
I had the opportunity to sit down with TrustRadius founder and CEO Vinay Bhagat to address these shifts and what exactly it means for vendors. We uncovered dramatic changes from just one year ago and discussed how it impacts the go-to-market strategy and how to adapt to evolving preferences in the buyer journey.
Gary Drenik: What are the major shifts in buying behavior from just last year?
Vinay Bhagat: Across generations, buyers prefer a self-serve experience. They're seeking out information on their own and finding out as much as possible about available products before making a final decision.
They also don't want to be cold-called or emailed, they want pricing information readily available, they want to try before they buy, and they are super skeptical, so they want marketing and sales claims validated with vetted customer proof.
According to findings in our 2022 B2B Buying Disconnect: The Age of the Self-Serve Buyer, in which TrustRadius surveyed 2,185 technology buyers (e.g., decision-makers), use of vendor resources has declined since 2021.
More notably, buyers across all company sizes, purchase prices, and generation segments reported using vendor sales representatives less than ever before in their research process. In 2021, 43% of buyers reported consulting vendor sales representatives, making it the fourth most commonly used resource. This year, it dropped to just one out of four buyers (nearly a 20% drop). Every year we've done our survey, vendor sales reps have held high regard among buyers. But, as you can see, preferences are shifting dramatically.
These declines in the use of vendor resources were coupled with increasing reliance on third-party information sources, including user reviews (11% increase YOY), communities and forums (10% increase YOY), and analyst rankings and reports (14% increase YOY). Plus, the use of review sites increased from 2021 to 2022 for companies of all sizes, with the most notable gain occurring among companies with 10,001+ employees.
Another interesting observation—more and more buyers want to experience readily accessible free trials. We saw a 15% increase in preference for free trials compared to last year. It's actually one of the preferences that knocked vendor rep reliance out of our top five most commonly used resources.
All in all, we're definitely in the age of the self-serve buyer. Winning companies will need to adapt their sales and marketing strategies to align with these evolving preferences.
Drenik: What specifically do you mean by the "age of the self-serve buyer?"
Bhagat: The age of the self-serve buyer has everything to do with buyer preference. As of 2019, Millennials have surpassed Baby Boomers as the nation's largest living adult generation, according to population estimates from the U.S. Census Bureau. That means that they are also the largest group of decision-makers when it comes to company purchases. Gen-Zers are also starting to make their mark inside these organizations (now more than a quarter of the population).
Millennials–and their younger counterparts–are used to having information available at their fingertips. They started using social media at a young age and they frequent online forums (like Reddit and Quora) for topics that interest them. These generations are highly connected and motivated to seek advice from peers. They're not afraid to share their opinions. All of these behaviors define today's buying process.
As companies increase their software budgets (up 38% YOY) and willingness to take on more product demos (up 23% YOY), the collaboration between active buyers and vendors has never been more critical. We can also see data supporting these trends in the latest Prosper Insights & Analytics survey, which shows that more than 30% of employed consumers purchase or influence the purchase of products or services for the company they work for.
Prosper – Influence Company Purchases Prosper Insights & Analytics
The strongest desires for self-serve involve both finding pricing and first-hand product experience. According to the TrustRadius survey, product demos ranked as the top resource during the evaluation process, with 59% of buyers using them. Product demos have been the most widely used resource for six years running. Pairing demos with a free trial (an increased preference this year) can help increase pipeline and lead to more conversions.
In our survey, we also noticed a high value placed on third-party resources, including user reviews. In fact, 41% of Gen-Zers and 29% of Millennials stated that "checking review sites" was the first step in their buying journey and had the greatest impact on their purchasing decisions. They were also more likely to self-serve their research by starting with a Google search.
Short and sweet buyers like to do a lot of the legwork on their own before they come in contact with a vendor (especially when it comes to price and UX). As a result, companies must think about behaviors before finalizing their go-to-market strategies. The old ways just won't work like they used to.
Drenik: How does buyer behavior change a business' go-to-market strategy?
Bhagat: Today, a business' GTM strategy must be ever evolving, but if you're going to take something away from our insights, don't go at it alone. Why? Today's buyers told us that they are relying less on vendor resources. Instead, they're turning to self-serve options like third-party review sites, first-hand experience, and conversations with customers over the vendor website.
That doesn't mean vendor resources aren't important. A company's website is still its most important tool for success. Vendors should be leveraging their websites and marketing materials to make it easy to find accurate, up-to-date information about the product—including pricing, features, and feedback from customers.
A big benefit of transparency is allowing sales representatives to play a more consultative role. Rather than being the gatekeepers of basic information, they can support a buyer's decision-making process with expert knowledge and help them make sense of all the third-party information they've gathered. It's a more effective strategy than making them get on a call to learn the basics.
The goal for vendors today should be developing a clear, consistent narrative across the board–including on third-party channels.
Another tip–ditch the cold outreach efforts. Buyer's name cold calling (64%) as the #1 reason they are less likely to buy a product.
A great place to look for inspiration is the B2C marketplace. These companies are interacting directly with their customers, engaging them in new ways, and helping seal the deal—primarily through virtual communication or influence. B2B vendors can learn a lot from their friends in the B2C space.
Drenik: In your opinion, which B2C trends have had the biggest impact on the way B2B buyers self-serve their buying journey?
Bhagat: The biggest B2C trends impacting the B2B buying journey include pricing availability, try-before-you-buy options, customer reviews, and website usability.
Let's dive into the vendor website first. According to a recent Prosper Insights & Analytics survey, more than 80% of adult shoppers and business purchasers alike ranked website useability as a high priority for their online shopping experience. In addition, more than 50% of adult shoppers and more than 60% of business purchasers want access to a live customer service representative through the website. It all ties back to our findings that prove we're shifting toward a self-serve era.
Prosper- Importance of Services When Shopping Online Prosper Insights & Analytics
Now let's dive into pricing. This year, we noticed that pricing information topped the list of buyer expectations for self-serve. The vast majority of buyers (81%) want to find pricing information on their own. Buyers don't want to learn about the product by sitting through a slide deck. They aren't keen on booking calls or meetings if they aren't yet sure that the product will even meet their needs or be within their price range.
In fact, the top three things' buyers say tech vendors can do to make them more likely to buy are publishing pricing on the website (71%), making demos or free trials available (70%), and showing customer reviews on the site (35%).
Drenik: What are the most important strategies for B2B marketers aiming to adapt to the age of the self-serve buyer in 2023?
Bhagat: It's quite simple, actually. First, if vendors aren't capitalizing on social proof through their messaging, they're not enabling the buyer journey. Second, stop using vendor sales reps as gatekeepers to important product information. Buyers want that readily available during their self-serve research phase.
Today, virtually 100% of buyers prefer to find and research technology products on their own, which isn't a surprise given the major influence of Millennials and Gen-Zers (the digital natives). That's why we at TrustRadius make it easy for brands to harness quotes from reviews and other social proof in digital marketing and sales to boost SEO, conversion, and win rates.
We help our customers generate pipeline and win more deals with solutions like converting in-market buyers who are looking at their competitors; leveraging downstream intent data and the customer voice to increase conversion rates while lowering cost-per-lead; and helping them take advantage of powerful integrations that activate intent data in their CRM, social channels, and ABM solutions. And we do this by giving our customers a third-party resource to rely on, which is what buyers want to see in today's marketplace.
Drenik: Vinay, thank you for your insights on business buyer behavior and the shift toward a self-serve purchasing era. As we enter 2023, it's clear that the focus should be on giving the business buyer what they want—readily available information from both vendor and third-party resources.
This article was written by Gary Drenik from Forbes and was legally licensed through the Industry Dive Content Marketplace. Please direct all licensing questions to [email protected]. 
Informa Tech delivers high-performing digital marketing services across your customer journey. Learn how we can help you build your brand, earn trust, and drive demand.